Frequently Asked Questions
---
What is your Minimum Order Quantity?
The Minimum Order Quantity (MOQ) will vary depending on your selected material color, item size, and the on stock availability of your particular item configuration.
MOCAP's minimum order for Stocked, Ready-to-Ship Items is an all new, industry low of just One Micro-Pack. The quantity per Micro-Pack is size dependent and can be found on the webpage for that particular family of products.
Minimums for Made-to-Order Items depend on the manufacturing process and materials involved, but is typically 1,000 pieces.
Contact MOCAP Sales or Customer Service for minimum order requirements for a specific item.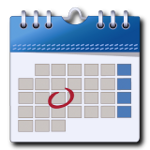 What are your Lead Times?
We offer Same-Day Shipping on some of our in-stock items for web orders placed before 2PM (CT) M-F on normal business days
Orders for stock items received via fax, email, or phone will typically ship within 2-3 business days.
Made-to-Order Dip Molded Vinyl Products from stock materials usually ship within 10-12 business days.
Made-to-Order Rubber Injection Molded Products from stock materials typically ship within 12-15 business days.
Orders for custom-length open-ended Extruded Tubes ship within three weeks. Sealed-bottom tubes and hanging tubes ship within four weeks.
Secondary Operations such as Printing, Punching or Slicing require an additional 5-7 business days added to the above lead times for each operation.
Contact Customer Service if you require a more specific delivery date, or to discuss the lead times of items produced from special order materials.
What are your Payment Terms?
Net 30 Day terms are available to most new customers after review and acceptance of a simple Credit Application.
We also accept Visa, MasterCard and American Express, money orders, wire transfers and company checks.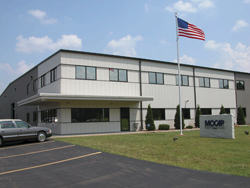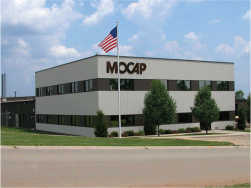 Where do your products Ship From?
We ship our products from one of our 2 USA Factories:
Park Hills, MO 63601 or Farmington, MO 63640
Which shipping companies do you use?
Most orders are shipped via UPS.
We also offer US Mail (USPS) service on items ordered though our website.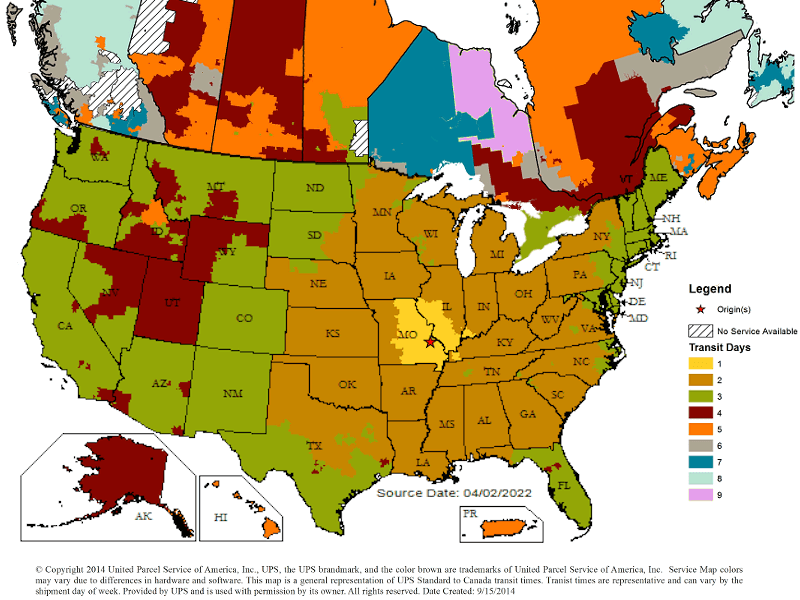 How long will it take before my order arrives?
See map to the right for estimates of UPS Ground freight delivery times.
What is your Return Policy?
We strongly suggest requesting samples of our product before ordering, so that you may verify the part will work as expected for your particular application.
Made-to-Order Products cannot be returned unless defective.
Stock Items may be returned, however,all returns of stock, re-saleable products are subject to a minimum $50.00 handling/re-stocking fee. Returns of stock items must be pre-approved and sent freight prepaid.
No returns will be accepted on non-stock or special order items.
Broken package quantities and out-going freight costs are not credited.
Unauthorized returns will not be accepted.
What Other Services are offered?
MOCAP offers punching, slicing, one-colour silkscreen and pad printing, assembly and fulfillment.
Contact MOCAP Sales or Customer Service for additional information or details.
What Dimensional Tolerances apply to MOCAP products?
Dimensional Tolerances are based on the manufacturing process and/or materials used to produce a specific product.
For example, the dimensional tolerance for the inside length of a dip molded vinyl part is +/-0.063", whereas the dimensional tolerance for the inside length of a plastic injection molded LDPE cap is +/-0.010".
Contact MOCAP Sales or Customer Service for more information.
What Materials are used to produce your products?
Dip Molded Caps, Plugs, Grips and Closures are made from flexible vinyl PVC (Poly Vinyl Chloride). MOCAP offers many variations of flexible PVC materials, including general purpose glossy, hi-temp resistant, UV resistant and textured.
Plastic Injection Molded Items are typically made from HDPE, LDPE and PP resins, although MOCAP can process other resins upon request.
Rubber Molded Products are typically made from Silicone or although MOCAP can process other thermo-set materials upon request.
Paper Caps and Plugsare made using environmentally friendly and recyclable natural paper.
X-Treme Tape and Silicone Tubing are extruded using special silicone compounds.
Cleartec Extruded Tubes are made from PETG (Polyethylene Terephthalate Glycol). Our tube closures are made from one of the following: The inner-fit plugs are made from PP (Polypropylene), and the exterior fit caps are made from PVC (Poly Vinyl Chloride). Note that not all materials are compatible with these plastics. The responsibility lies with the purchaser to determine that any product or material used with our plastics are compatible.
Beckett Tubes and Boxes are made from PP (Polypropylene), HDPE (High Density Polyethylene), and from PVC (Poly Vinyl Chloride).
Standard Material Colors (9500 Formula Vinyl)
NOTE: Some colors are also available in a "high-temp" material (denoted with a "-T" or "-HT" suffix)